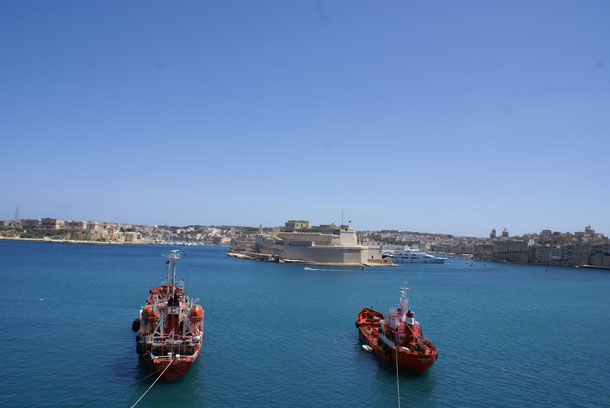 Word of the day: octopus, roundabout, knight, limestone, fireplace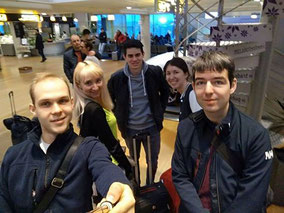 As the last day of April in Estonia decided to bring back winter, with wet snow storm and almost zero temperature, it was a perfect moment to step on a plane and head to Malta, officially the sunniest country in the world with 300 days of sun per year (not bad, huh?). 
The flight was an early one, 7AM, but everybody was so excited to get going that an early wakeup didn't bother us. Really comfortable and smooth flights. As soon as we landed in Malta and got off the plane, we were welcomed by the warm sea breeze and gigantic palm trees. "I can't believe I see real palm trees," exhaled Kristina.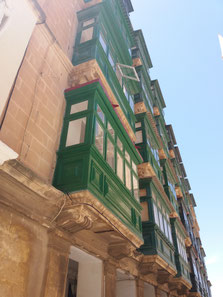 We rented a car right at the airport and crossed our fingers that our brave Pavel would manage left driving. Yes, Malta has left, not right driving. And that's exactly what our guys jokingly told local people: "Your driving is not right" :) Pavel surprised all of us by how quickly he learnt local road rules and adapted to left-side driving.
The first car ride was a real adventure, of course: minimum traffic lights, unbelievably narrow streets... plus, Maltese people love roundabouts, and when you drive on the other side of the road, making the right turn is a challenge! And talk about tiny parking spaces and the crazy ways Maltese people park their cars!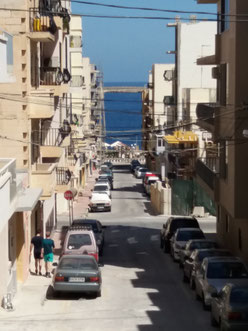 When we stepped into our rented apartment in Bugibba we could hardly believe our eyes! Two floors, two balconies with sea view on St. Paul's Bay, a huuuuge dining room with a fireplace, a cozy kitchen with a bar table for a late night chat, and only a 15-minute walk to the sea! Coupled with the comfortable temperature of +23+25 degrees and refreshing wind, we couldn't have wished for a better weather in Malta.
The moment we entered our white limestone home, we set a house rule: from this minute until the end of the trip we only speak English! If someone breaks the rule and says a phrase in their language (for example, Russian)... what happens then? "Let's make a punishment," offered Kristina. "He/she will have to wash the dishes for everyone on that day!" What a great idea! Thank you, Kristina!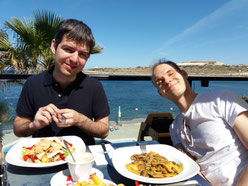 Even I was surprised that everyone easily switched to English and never switched to their language all those days! Yes, it means speaking English with some mistakes, but non-stop, fluently and practicing English both at home and outside.
Too tiring? Well, after 23:00 it was allowed to speak any language to relax your brain before going to sleep.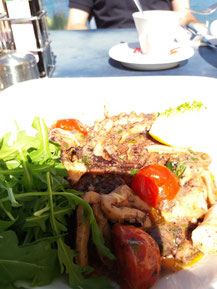 Of course, you might wonder what we ate. The great thing about Malta is... it's not Italy. So you can eat any time of the day and have a very late lunch. Our Maltese friends took us to an awesome cafe with a sea view, palm trees and delicious... octopus. "Octopus? Are you going to eat it? Is it tasty?" asked my group, looking at this big strange creature on my plate. "Can we try?" they asked insecurely. Sure! And then their faces changed from "Oh my god, it looks creepy!" to "I must order octopus tomorrow!"
We arrived in Malta on a perfect day: that weekend Malta welcomed us with Medieval Mdina festival, where we became part of the interactive show with knights.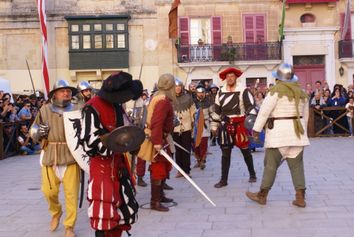 We had to support our team of knights, screaming "Heeey!", "Yeeeahhh!", "Booo!" and so on. The performance was more fun for children than adults but we started feeling Malta and its looong history, walking down the streets of the Old Town.
Feel free to leave a comment or a question about this or next trip!